BIO (Voor bio in Nederlands, scroll naar beneden)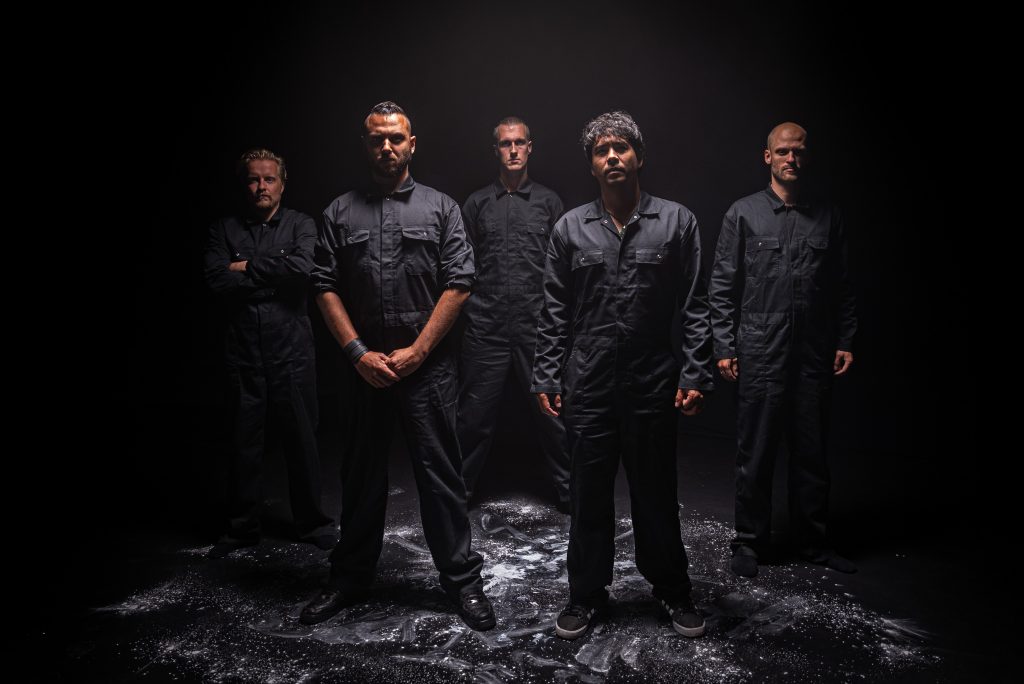 Band bio
What does it mean to be human? Do we have to become better versions of ourselves? Why is humanity stuck in the same old patterns? With their new single Synopsis, Dutch alternative metal band Mountain Eye takes a closer look at these themes.
Formed in the summer of 2017, the band has taken the alternative metal sound that bands like Korn, Linkin Park and Slipknot presented to the world in the beginning of the century, and transformed it to a sound that fits our decade.
On their debut album Roads Uncharted released in January 2019, Mountain Eye explores the extremes of life; the thin line between happiness and sadness that we all experience sometimes and that makes us all human. 'Roads Uncharted' was received positively, by the metal press with 20 positive reviews as well as online listeners streaming the album over 1 million times so far. Synopsis was featured on the Spotify official playlist New Blood and the videoclip was viewed over 200.000 times.
In 2020, the band was selected by the Popronde, in the middle of the covid crisis. In October 2021 Mountain Eye signed with Crusader Records under the umbrella of Golden Robot Records. On November 22nd, the band released their third new single called 'My Last Winter Trail'.
REVIEWS OF "ROADS UNCHARTED" (Click here for all reviews)
"What Mountain Eye manage with 'Roads Uncharted' is to adapt that nu-metal metal sound already lain down by bands such as Linkin Park, Disturbed and Sevendust and expand on it by dropping many of the cliched aspects that made the nu-metal scene so bloated by the turn of the millennium." (Metal Heads Forever Magazine)
"Mountain Eye presented an excellent work even by the standards of established bands." (Rockcor Magazine)
"The album is an original, unique idea and they have amazing potential for the future." (Lyrical Spell Magazine)
LINEUP
Arthur – Vocals
Omar – Guitar and Vocals
Tim – Guitar
Kieft – Bass and Vocals
Matthijs – Drums
LOGO
Name/white


Name/black

CONTACT/SOCIAL

NEDERLANDS
Band bio
Wat betekent het om mens te zijn? Moeten we betere versies van onszelf worden? Waarom zit de mensheid vast in oude patronen? Met hun single Synopsis neemt Mountain Eye deze thema's onder de loep.
De band werd gevormd in de zomer van 2017 en heeft het geluid van bands als Korn, Slipknot en Linkin Park omgevormd tot een sound die past bij dit decennium.
Op hun debuutalbum 'Roads Uncharted', dat in januari 2019 het daglicht zag, verkennen ze de extremen van het leven, de dunne lijn tussen geluk en verdriet – hetgeen waar we allemaal mee te maken krijgen en wat ons menselijk maakt.
'Roads Uncharted' is zeer positief ontvangen door zowel de wereldwijde metalpers met 20+ positieve reviews als door het publiek, dat het album inmiddels al meer dan een miljoen keer gestreamd heeft op Spotify. 'Synopsis' is opgenomen op de officiële Spotify playlist 'New Blood', en de video werd al meer dan 200.000 keer bekeken.
In 2020 werd de band uitgekozen voor de Popronde, midden in de coronacrisis. In oktober 2021 tekende Mountain Eye bij het platenlabel 'Golden Robot Records' onder het sublabel 'Crusader Records'. Op 22 november 2021 bracht de band haar derde nieuwe single uit, genaamd 'My Last Winter Trail'.
RECENSIES (Klik hier voor alle recensies)

"De heren van Mountain Eye laten een geweldige hoeveelheid veelzijdigheid zien. Het album heeft een frisse mengeling van rustige en brute tracks waarvan geen enkel repetitief klinkt. De enige vraag die nu is overgebleven is: wanneer komen er nog meer tracks?" (Smashpress)
"Ik moet zeggen dat ik tamelijk onder de indruk ben van Mountain Eye en het album Roads Uncharted. De heren laten horen dat zij weten wat zij doen en een duidelijk beeld hebben van hun handelsmerk." (Zware Metalen)
"Volgens mij bezit deze band alle capaciteiten om uit te groeien tot een grote band binnen dit genre. Petje af voor Mountain Eye." (Lords of Metal)